Flash CD Presentation
A CD presentation can integrate all the essence and details of any organization or product or occasion, giving the viewer a complete understanding about its purpose. This systems can be automatic or semi-automatic. Corporate CD presentations are having trendy look with stylish designs.
Our creative teams of professionals assist our clients through planning, designing and creating an impressive and engaging presentation. We have worked for various concerns starting from Government Sectors to Educational Institutes and Corporate Houses like Hotels, Tourism Houses etc. To our credit we have earned an overwhelmed satisfaction of our clients for our pristine services. Our clients are using and distributing these corporate CD presentations in various exhibitions. This specialized service can be used as product catalogs, reference material or advertising tools etc.
Flash CD presentations can be used for -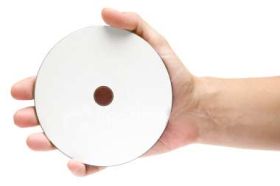 Corporate Film
Company's Corporate Meetings
Interactive E-Learning Content
Training Programmers
Company's Product Catalog
Product Demos
Interactive e-publications
Presenting Annual Reports
Flash Photo Gallery Package
Particulars
Static Photos (Package 1)
Dynamic Photos (Package 2)
7 Slides (Package 3)
Details
# Photos with an Animated Caption
# Random Transition Effect under one preset layout
# Prefixed Photos with Caption
# Presentation duration : Maximum 10 Minutes
# Caption and Photos to be provided by the client at the time of initiating project.
# Photos with an Animated Caption
# Random Transition Effect under one preset layout.
# Include photos with relevant caption in any number.
# Presentation duration : Go longer as much photos included
# Next Slides or Screens with text and photo.
Intro of the Presentation
N/A
5 Seconds
5 Seconds
Content Presentation Limit
Maximum 50 Photos and Relevant Caption
No Limit of Photos and Relevant Caption
7 Slides
Total Amount(INR)
Rs.5000.00
Rs.7500.00
Rs.6750.00
Order Now
Order Now
Order Now
Note: Service Tax to be charged extra as per Govt. norms
Special Features :
Change of partial text in the existing slides
Attractive Photo Gallery. Change or Add of Gallery Photos (on condition that it is not embedded with the presentations)
Background Music, Totally customized individual design
Option to select Auto Run or User Dependent Mode before starting.
Change of Music and Volume Control (Optional).
Video and Audio Inclusion (Optional).
Secret Keys to Jump Over Sections during running mode of presentation.
Perfect corporate look, Proper navigation, Designing banners as required.
Transition Effects
Fully animated presentation
Randomly changing texts, music and images as required.
Slides will be presented on the base of One Preset Layout.
Free Updates in Half of the No. of slides mentioned in the packages above within 3 months of delivery.
24 x 7 phone & e-mail support throughout the year.