Webtiative Content Management System
An PHP + My Sql Based Content Management Platform to empower your websites and applications. Webtiative Content Management System (CMS) enables you to build resourceful websites. Webtiative is easy to use, easy to handle and easy to maintain.
A Content Management System (CMS) is basically a software system the helps authoring, collaborating and administering tools to handle a website without little or no programming knowledge or knowledge of markup languages.
Basic Advantages of the Webtiative Content Management System (CMS) is as follows -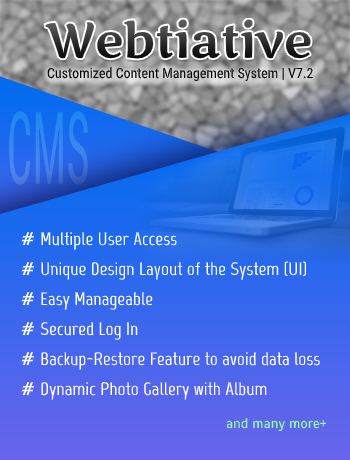 Low Cost – Serious websites or business website needs good amount to be invested to create informative pages, updating the website at regular interval, monitoring at daily basis, maintaining the website throughout the year. Content management Systems allows the users not to increase the cost by employing full time programmers or software developers as the system can be updates, edited, maintained without any technical knowledge. Although preliminary investment can be little much then the normal websites but for a long a steady run Webtiative Content Management System is the best option
Easy Customization – Webtiative Content Management System (CMS) can be customized easily. An Universal system layout has been provided. New menu, new graphics can be added or deleted from the system by the admin user with ease.
Unlimited Possibilities – Webtiative Content Management System (CMS) has got many modules which can be integrated with the system for further business need. Or can be developed independently for your requirement. For instance Customer help desk can be integrated with the system, or hotel booking engine or any other dynamic modules can be integrated to cater your particular need.
Easy to Use – CMS is created specifically keeping the non technical person in mind. Webtiative is simple in design and the user interface (UI) is easy to handle. Webtiative CMS allows the users to add, updates, edit or handle the data flow with minimal technical knowledge of PHP, My Sql
Search Engine Friendly – CMS websites are good for search engines. Webtiative is created keeping that factor in mind. Easy change of textual matter is one factor. Webtiative is capable of Meta Content Writing, Sitemap Generation, Keyword Entry Points etc to help the websites to be promoted in Search Engines.
Features of Webtiative Content Management System (CMS)
Secured Log In
Image Verification System
Easy Manageable
Unique Design Layout of the system (UI)
Top Navigation Menu with Sub Menu option
Left Navigation Menu with Sub Menu option
Generalized Word processor like work environment for page creation
Step by Step link depth and automated positioning of the link depth at the pages
Photo galley Creation
Auto thumbnail Feature
individual photo caption
Controlled mailing
SEO Friendly Structure
Site Search Option
Automated site map Generation
Backup-Restore Feature to avoid data loss
option to attach add-on modules
Multiple user access
Multiple user basis user role creation
SWAP Position and link Display Priority
File Manager
RSS Feed